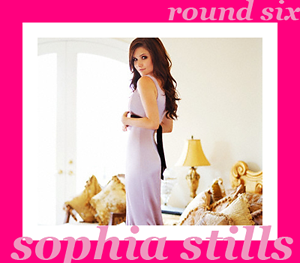 sorry for posting it late + the crappy banner. my internet's been acting up.
1. Only enter three icons or your entry will be discarded.
2. All icons must be 100x100 and less than 40kb.
3. NO ANIMATIONS! This is a
still
ness community, thank you. :)
4. Textures/brushes/etc. may be added to the icon but please have Sophia clearly in the icon.
5. There are plenty of images in the gallery link below so please only use those.
6. You can not post these icons anywhere until after the winners have been announced (or have posted them somewhere before here).
7. Other people are okay, as long as Sophia is in it.
8. Post your entry the correct way, please. (image + link)
gallery link.
This challenge would've been posted sooner if my computer wasn't messed up, sorry!
You have until 10:00 PM EST on Saturday, August 2, 2008 to submit your entries. We had 12 entries last time, let's shoot for 14! :)
vote for round five!